Styrene Butadiene Rubber (SBR Powder)
Taprath Elastomers LLP is among the most renowned enterprises engaged in manufacturing Elastomer Powders. We are a part of 4 decade old RATHI CONGLOMERATE, with 8 production units in India. As a well reputed Exporter, Manufacturer and Supplier, we are operational in various fields from Metals to Healthcare, Agro, and Electronics as well. Taprath is 1st company of its kind in India, engaged in manufacturing a wide range of products that are based on synthetic elastomers. Our company specializes in offering SBR Powder, SBR Rubber Powder, Rubber Powders, Rubber Compounds, and Thermoplastic Compounds.
We are Dealing in only Raw Material of Masterbatches, Raw Compositable Materials, Rubber Powder.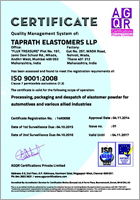 Read More